BOX #3: YOSEMITE NATIONAL PARK
August 2016
Photo credit: Christina Dikas
The third Senses of Place Box is an ode to Yosemite National Park, which celebrates its 100th birthday on August 25, 2016. From its majestic mountains and lush meadows, to its raging rivers and celebrated wildflowers, Yosemite offers so much inspiration for native plant lovers, camping enthusiasts, hikers, CA natives, and tourists alike.
The box includes 5 limited edition herbal products handcrafted to evoke the character of one of America's oldest National Parks. Items tentatively include: a first aid balm, dream pillow, facial cleansing grains, herbal infused vinegar, and granite totem.
All Senses of Place Box products are inspired by a specific place and feature local plants and herbs that grow in the area. Each box comes with an illustrated booklet highlighting the area's history, flora and traditions, and detailing the benefits and uses of each of the products.
NOTE: This is a limited edition product and only a single batch of 20 boxes will be available. The boxes are packaged beautifully and make great gifts for friends or loved ones. Pre-orders are available now and boxes will ship via Priority Mail in late August 2016.
There are still a few boxes left. Order here>>
Products included in the Big Sur Box:
Yo-Semite Herbal Vinegar – an herbal vinegar infused with California Bay Laurel. Add a dropper to water and drink in the morning to stimulate digestion, add to food as a simple seasoning, or mix it up in a salad dressing (recipe included).
Big Trees Balm – The Giant Sequoias of the Mariposa and Tuolumne Groves were some of the first features documented in the accounts of Joseph R. Walker's 1833 expedition to Yosemite. The Big Trees Balm is made with a blend of nourishing oils infused with rosemary, cedar, and Douglas fir to recall the healing and cleansing properties of Yosemite's Big Trees.
Tuolumne Meadows Facial Grains – Inspired by the wild roses and elderflowers that bloom in the Tuolome Meadows in summer, these facial grains are versatile and can be used as a cleanser or mask. Oatmeal and almond flour nourish and moisturize, rose and elderflower provide texture and healing, and clay pulls impurities to the surface.
Ahwahnee Dream Pillow – Inhale the soft scent of rose, lavender, and mugwort to lull you to sleep while heightening your awareness and memory of your dreams.  Each pillow is hand sewn.
Sierra Nevada Granite Totem – Feel grounded and majestic as you meditate with this small granite totem.
BOX #2: SAN FRANCISCO, CALIFORNIA
December 2015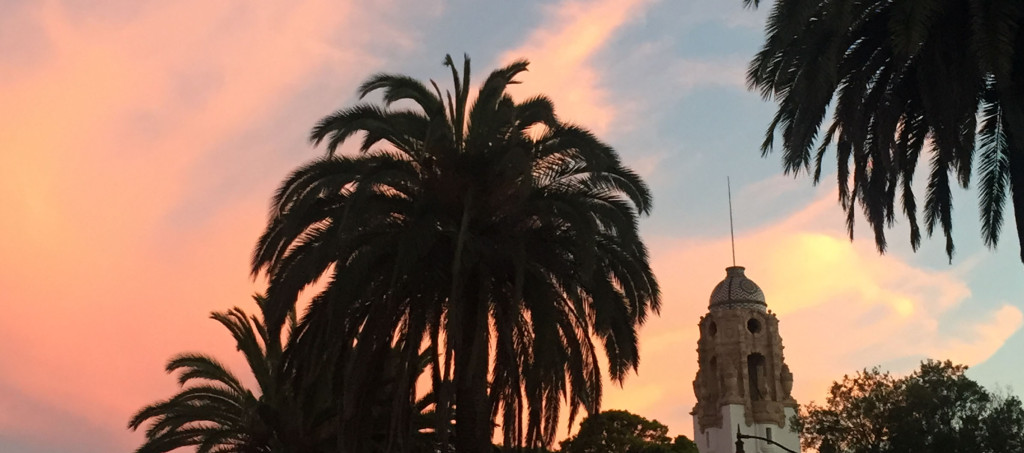 The second Senses of Place Box features San Francisco, California…one of the most scenically beautiful cities in the world. This box does not feature the typical tourist haunts, but the special, secret, local places and snippets of history that you only begin to discover by spending time immersed in a place.
The box comes with 5 hand-crafted herbal self care products (listed below) and a hand-illustrated booklet highlighting the area's history, flora and traditions, and detailing the benefits of each of the products.
Products included in the San Francisco Box:
Telegraph Hill Jasmine Body Oil – a body oil infused with wild-crafted jasmine and lavender flowers, with a few drops of jasmine absolute added to intensify the refreshingly sweet scent. Vitamin E provides extra skin nourishing. Inspired by the elegant gardens lining the Greenwich Street steps of Telegraph Hill.
Carville-by-the-Sea Spray – a room and body spray created to conjure the spirit of the bohemian pioneers who established the Carville community at Ocean Beach at the turn of the 19th century. The blend features mugwort,  peppermint, palmarosa, and lavender for protection and lifting the spirit; and gem essences of jade, carnelian and moss agate to provide healing, vitality and grounding energy.
Dolores Park Gardener's Salve – a salve featuring calendula, plantain and yarrow infused almond oil to heal and moisturize the skin, and lavender for its soothing properties and sweet earthy scent. All of the plants selected for this formula are cultivated in abundance in the park and surrounding neighborhood gardens.
Telesis Salon Tea – to celebrate San Francisco's rich tradition of salon gatherings of the artistic and intellectual communities. The tea features a blend of both mind-stimulating and soothing herbs. Lemon balm and Yerba Buena (San Francisco's namesake) help alleviate tension and headaches, Rosemary strengthens the mind and memory, Cinnamon stimulates circulation, and Cornflower evens out the blend with its earthy taste and rich blue color.
Elderberry Elixir – a tasty combination of immune boosting, antioxidant, anti-inflammatory herbs including ginger, lemon, hibiscus, cinnamon, star anise, and reishi mushroom to celebrate the grand elder trees of Glen Canyon Park.
BOX #1: BIG SUR, CALIFORNIA
September 2015

Products included in the Big Sur Box:
El Sur Rancho Foot Soak – a mineral salt soak formulated to capture the distinctive scents of the Big Sur coast and the former El Sur Rancho. With eucalyptus, lemongrass, tea tree and peppermint.
Ewoldsen Trail Infused Honey – white sage infused wildflower honey inspired by the early medicinal uses of sage in Northern California.
McWay Cove Soy Candle – hand poured soy candle scented with eucalyptus, sea pine, and sweet fennel essential oils evoking the warm, spicy scent of late summer along Highway 1.
Bixby Bridge Bitters – digestive bitters made from wild-crafted fennel blended with wild cherry bark. Taken daily in water before meals to support digestion or the perfect addition to a classic Manhattan cocktail.
Super Moon Sage Smudge Wand – a hand wrapped white sage smudge wand created on the August Super Moon. Celebrating and heightening awareness of the late summer/early fall Super Moon cycle we are currently experiencing.